I don't know why we do this for football and not any other sport, and I don't know why we haven't come up with a better name for them. Either way, here they are, as voted on by your favorite team of third-rate sports bloggers.
The Randall Cunningham Comeback Player of the Year - Marshawn Lynch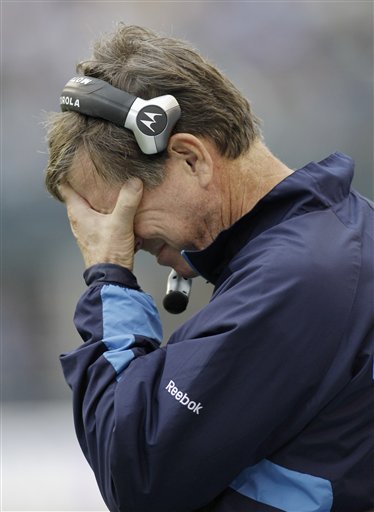 Overall, it was a pretty weak field this year, but Lynch took Beast Mode to an entirely new level. Also receiving votes: Steve Smith.
The Mitch Berger "How-Do-I-Still-Have-a-Job-In-This-Economy?" Award - Norv Turner
Our first repeat winner! Surely Norv gets canned this off-season, right? Right?
The Jamain Stephens Ongoing Disappointment Award - Chris Kemoeatu
A strong contender in years past, Kemo sealed it up this year when his penchant for tripping over his own feet and falling into his quarterback got him sent to the bench in favor of the revolving door of Trai Essex/Ramon Foster/Doug Legursky.
The Daniel Sepulveda (nee Paul Posluszny) Glass Skeleton Trophy - Byron Leftwich
It's impossible to ignore these two gentlemen, so in accordance with a great suggestion by Franco, we're renaming the PPGST in honor of the Steelers' future former punter and giving it to their future former backup quarterback.
The Rex Grossman Award - Josh Freeman
It would be very tempting to give this to Rex Grossman, as he actually played significant time this year, but Freeman's 14 TDs, 19 INTs and 74.9 QB rating are going to get Raheem Morris fired.
The Brett Favre Golden Boy of the Year - Tim Tebow
Michael Wilbon calls him the league's first "white black quarterback." That's all I have to say.
The Antonio Freeman Play of the Year - Marshawn Lynch goes Beast Mode
There was some clamor for Jerome Simpson's flip into the end zone, but I don't buy for a second that he actually needed to make that move in order to score on that play. Jerome Simpson is a showboater who is afraid of contact. I don't think I saw anyone obnoxiously celebrate every little catch this season as much as Simpson. Lynch just does absurd shit like this, then goes to the bench for his handful of Skittles.
The Jim Zorn Play of the Year - Jason Garrett ices his own kicker, loses game
Around week 12, we started getting worried that we hadn't seen anything to warrant the Jim Zorn tag this year. Then, Jason Garrett came up big time.
The Woody Hayes Punch of the Year - Ndamokong Suh kicks a guy in the head
Not technically a punch, but the spirit of the award is sportsmanship more than punching. Suh gets bonus points for denying it later.
The Joe Theisman Award for Horrific Primetime Injury - Adrian Peterson
All Day ripped everything that wasn't bone completely out of his leg against the Redskins. I'm not even going to post the video.
The Clinton Portis Medal for Fantasy Genocide - Chris Johnson
Copspeed really screwed everyone who owned him this year, and his whopping 56 yards in Week 16 sealed the deal. Johnson beats out Jamaal Charles because you had the luxury of being able to cut the latter, while the former was totally unmovable and necessitated a start every week.
The LaDanian Tomlinson "Who Stole My Relevance?" Award - Michael Vick
Giving $100 million to a fragile, 30-plus-year-old quarterback who won't play more than 12 games doesn't seem like such a great idea anymore, does it?
The Adrian Peterson "I Stole Your Relevance" Award - Cam Newton
I will be the first to admit I was completely, totally 100 percent wrong on this guy's ability to play professional ball.
The Brett Favre Disingenuous Asshole Award - Jim Harbaugh
Handshakegate with Jim Schwartz notched this one. Special recognition to Donovan McNabb for saying he wants to help mentor Christian Ponder and Joe Webb by asking for his release from the Vikings.
The Larry Johnson Trophy for Worst Breakout Performance - Felix Jones
Jones was handed the starting job from the get-go, and took advantage of it by rushing for 2.8 yards per carry or some shit, then getting hurt, again, before ceding the job to DeMarco Murray. Shonn Greene put in another terrible effort to contend for this one again, but Jones skips away with this on his tantalizing upside.
The Eddie George Medal for Valor in Hitting a Wall - Hines Ward
12.4.11
Bruce Arians calls bubble screen to Hines Ward.
Franco: HINES WARD! THEY'RE RUNNING HIS ONE PLAY FOR THE WEEK!
Matt: Is it the bubble screen?
Franco: IT'S THE BUBBLE SCREEN! GO HINES! GO!
/Ward gets tacked
Franco: THANKS FOR THE PLAY, HINES! WE'LL SEE YOU NEXT WEEK!
The Jerome Bettis Trade of the Year - Cincinnati Bengals unload Carson Palmer
Davis the Younger honors the memory of his father by trading away infinity first-round draft picks for Carson Palmer. Cincy now has all of the first-round picks forever and Andy Dalton looks pretty good. Mike Brown will probably still find a way to fuck this up.
The Brian Billick Feel-Good Firing of the Year - Todd Haley
When Romeo Crennel, who doesn't appear to have movement in his arms or legs, does more to inspire your shit team in four games than you could in two years, there's nothing more to be learned than that you're an asshole.
The Butch Davis Mid-Season Firing of the Year - Joe Paterno
It's a dubious awards post, and he has to get something.
The Tamarick Vanover Work Release Player of the Year - Plaxico Burress
Spotty, but effective this season.
The Kevin Greene Award for Best Hair by a Pass Rusher - Kevin Greene
Jared Allen's mullet is long gone, and we hate Clay Matthews so much that we're just going to give it to Kevin Greene this year.
FTC Mike Tomlin Man of the Year - Aaron Rodgers/Drew Brees (tie)
We hate to do this, but we love both of these guy so goddamn much. Rodgers is currently playing quarterback better than anyone else ever has, and Brees should be walking away from this year as the single-season record holder for passing yards. They also gave us the best game of the entire season -- it just so happened to be the first game of the season -- and we're hoping for a repeat at some point in the playoffs.